60s Guitar 1 – Crunchy Riffs and Bluesy Top Line Melodies
Stuck in sound of the sixties? Then head over to 60s Guitar 1 and fall in love with that good ol' rock 'n' roll feel! Full to the brim with crunchy riffs and bluesy top line melodies, this classic collection will take you back in time to when songs like 'I can't get no Satisfaction' and 'My Generation' ruled the radio – even modern songs like 'Katchi (Ofenbach)' still draw from the same tasty cocktail of the 60s flavour. Whether you're looking for layers, extra groove or catchy motives, 60s Guitar is the perfect addition to your production purposes.
With 60s Guitar 1 we present another release from the Artist Series of Image Sounds. In this great expert series, we focus exclusively on the recording of live instruments and vocals, all recorded by professional musicians. The library recordings are made with high-quality recording equipment to capture a tremendous closeness of the natural sound of each instrument. You will not only notice the textbook quality, but also the variety and high-quality processing we are eager to produce.
The product is 1,59 GB in size all in all. The tempos are between 83 BPM – 160 BPM. The library contains 14 folder and offers a total of 351 guitar loops in many different musical styles.
With each guitar folder you will get a huge selection of different loops, all of which work well together or can be used individually. All loops of a folder are based on the same harmony pattern and can easily be combined. Thus you can select guitar loops for a complete song or just use a sample for your song – all within seconds. These loops are easy and intuitive to work with, enabling a fast workflow, which, of course, is essential in music production.
Each and every loop contains tempo and key information. They are pre-mixed and ready to use, with perfect EQ and light compression. They have been carefully and professionally recorded by proven experts, using top quality studio equipment, with sound optimized and recorded in 24Bit and 44.1 KHz.
Important: Please note that except the guitar all instruments are for demonstration purposes only.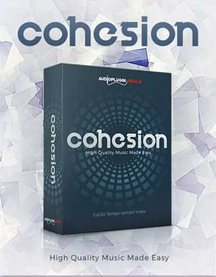 60's Guitar is additionally distributed in the bundle "Cohesion" by APD.